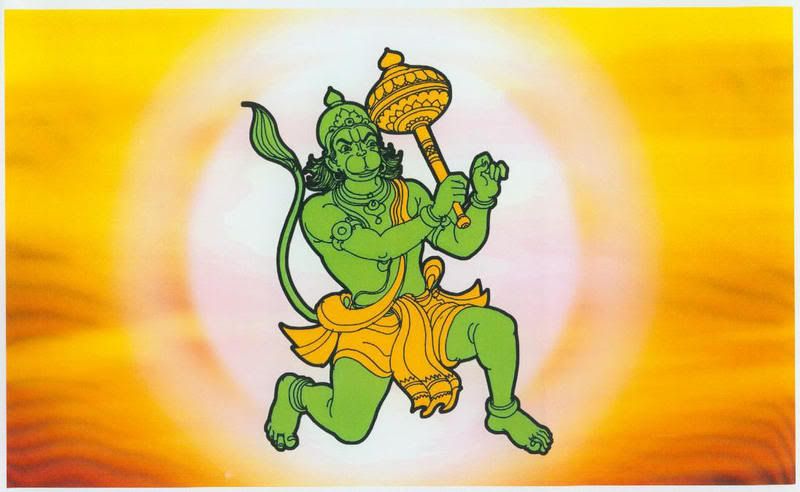 The new flag for the victory of Sanatana-Dharma
Here we see Hanuman ready for battle while standing in the golden rays of the sun.
This design was revealed in two consecutive dreams a friend of mine had in which Hanuman explained that with this flag, he himself would appear to fight for the cause of Dharma for those who flew this flag
.
Hanuman explained to him that many groups in India respect and fly the saffron flag, which is the best flag to use for heightening one's spiritual development, and for meditation and contemplation. But it is not the best flag to use for fighting the forces that threaten Sanatana-dharma. This Hanuman flag is the best one for that. After the dream my friend had, Mr. Rama Murti designed what we see here, and gave me a copy to use and circulate to others.
So everyone who follows the Dharma, and especially those who work to protect and defend it, should use and fly this flag. Put it in your home, on your websites, and anywhere else that suites you.
Also, remember that on the battlefield of Kurukshetra, Arjuna bore the Hanuman flag on his chariot and was victorious over the forces that threatened Dharma.
So you can use the present flag as presented in this email, or if you prefer to use a larger file for a higher quality print, let me know and I will send it to you as an email attachment. Or if the flag does not appear in this email, email me and I will again send it to you.
Hari Om and Hari bol,
Stephen Knapp
Email: srinandan@aol.com
To know more about Stephen Knapp check www.stephen-knapp.com